Because I was a software developer before becoming a Homeschool Mom I was totally geeked that software was being developed to help children learn how to read or do math. We first started with Reader Rabbit which led to another software game called Math Blasters. My boys were learning a lot more by playing games than completing worksheets.
When Minecraft came along I was willing to let Logan and Jordan explore building with virtual blocks than those hard plastic ones that I always seemed to walk on in my bare feet. The best part was teaching my sons architecture using Minecraft as a natural extension of the video game.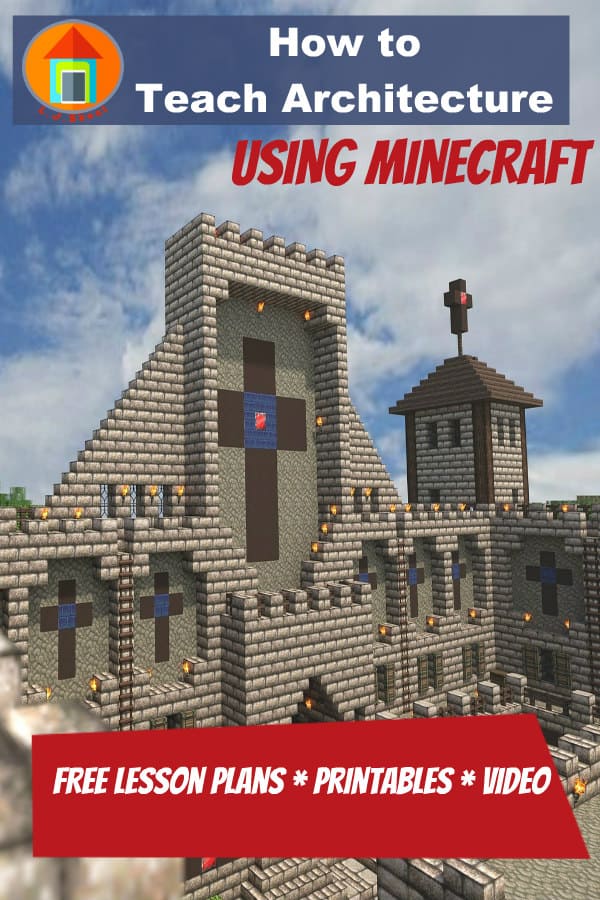 After two years of playing Roblox another friend asked if they had heard about Minecraft. Logan says that Roblox is a "make everything yourself" game but Minecraft is an adventure and survival game that allows you to build your own worlds.
Free Online Lessons that Teach Architecture Using Minecraft
Zaniac, a Park City, Utah-based chain of after-school learning centers, teaches a weekly 90-minute course that focuses on building, design, planning and even zoning. Students look at existing cities via Google Street View and discuss how certain landmarks and buildings are arranged. They then create 3-D models of building and import them into the game utilizing a program called MCEdit.
The final project asks students to work together and build a city, splitting different aspects of construction and focusing on collaboration and teamwork.The Minecraft Education website has a lesson plan for students to learn about Frank Lloyd Wright, usonian architecture, and Loren Pope
Another lesson on the Minecraft Education website teaches students to study different architectural styles and then design a building aligned with a particular style.
There is even a community of architects, and their kids, who have created entire worlds called BlockWorks. You have to see their amazing photos of their virtual online block worlds! These creations are intricate, detailed, and very forward thinking. One city even has a sustainable urban environment.
By the way, Hip Homeschool Moms even has a slew of free Minecraft printables!
The above video is part of a full play list of Minecraft Architectural Essentials videos.
These games are treats for the boys after working hard on their studies. I've even used them as part of their studies, not withstanding the learning programming code. We did a study on architecture by looking at famous buildings. We learned what the purpose of the building was, what aesthetic the architect was going for, that kind of thing. They enjoyed poking around the architecture for kids site, ArchKIDtecture!
The Final Analysis is that you can use Minecraft to Teach Architecture… and a whole lot more!
If you're husband gets upset about the kids playing video games just tell him Forbes had an article about using Minecraft as an educational tool.
The boys can still play with their friends all over the country using the Skrafty Minecraft Homeschool Server. Skrafty even offers online courses using Minecraft that teach things like Medieval History Literature to Weather Forecasting. There's individual coursework as well as live interaction with a qualified teacher. So be sure to check that out.
Or, ya know, keep him busy with pictures of the house Notch bought in Beverly Hills after selling his little video game that is teaching the kids how to create new stuff.