This lesson plan for the nursery rhyme "The Three Little Kittens" is full of engaging homeschool activities to keep your Kindergartener learning for a whole week.
Ever notice how every single preschool or kindergarten lesson plan has coloring pages, and handwriting, and reading the story? Yet your kid hates to do any of that stuff. This list of activities that are fun, engaging, and memorable. Requires very little prep. And I know they work because this is how I taught my kids.
Your child will learn how to recall a story using rhyming words, all about cats and kittens, make groups of 3, how to recognize the letters K and M, the difference between big and small, and even how to sew his very own pair of mittens.
I have provided a table of contents below for you. This way you can easily find what you are looking for. Please do look over the entire post before choosing, though! You might miss something really good if you do that. Even when I was teaching my youngest son, who is gifted, he much preferred the bright, whole body and brain, activities over sitting down at a desk learning.
This post contains affiliate links.
Goals and Objectives
Recall a story using rhyming words
Learn about cats life cycle and watch kittens grow up
Make groups of 3
Recognize the letters K and M
The difference between big and small
How to sew his very own pair of mittens
Before you begin, check for prior understanding. What does your child already know about cats, and kittens? What can your child tell you about mittens? What are they used for? What time of year, or season, are mittens worn?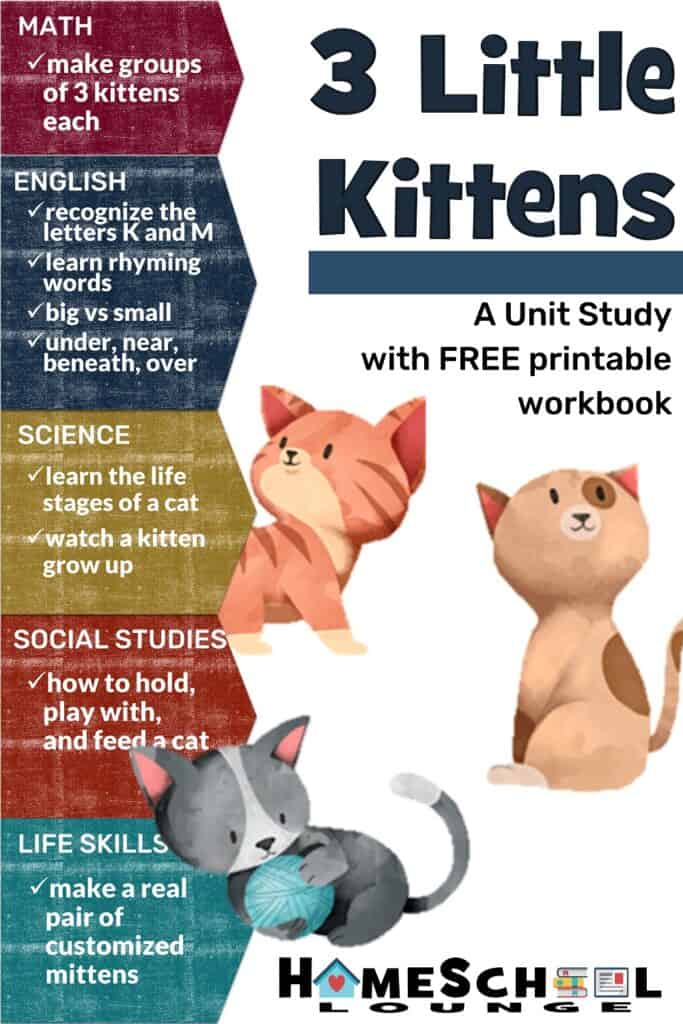 Videos to Watch
Start the week by watching The Wiggles sing and act out the nursery rhyme song about "Three Little Kittens". Even better is to turn on the closed captioning. While your child may not be reading on his own yet, seeing the words while hearing them will begin to build an understanding between the two. Basically, this is the beginning steps to reading.
Did you do the dance with them? Watch it again and this time choose which part you're going to play. Then mimic the actions while singing the song. Below are other videos about the little kittens you might enjoy, too.
Online Games to Play
This is a video but it's also a game! Can you find the letter K before the time runs out?
Biggest and Smallest Mud Hop: Listen closely to know which object to jump on either the smallest or the biggest object.
Sort by Size game: Sort a number of objects into different categories based on their size. Click on the link to get to the game, scroll to the bottom of the page, and click on Sort by Size to play.
Books To Read
Cats come in all sizes and shapes, and from all over the world! Let's learn about "Manul: Little Ghost Cat". He's a Pallas cat. Click on the word "English" under the picture to have the page read to you. To turn the page, click on the tab on the right of the book.
By the way, go to their home page to see other books about all sorts of things that are just for kids like you!
Want to see a vintage children's book about "The Three Little Kittens"? (Vintage means really, really old.) Project Gutenberg has a book that was illustrated by Kate Greenaway. Take a look at how the kittens had to wash their mittens when people didn't have machines in their home. Have you ever had to handwash something before?
Did you know that the three little kittens appeared in the movie "Despicable Me"?
"They All Saw a Cat" by Brendan Wenzel won a few awards for many things. But we love listening to the Audible version just because it's so fun. Reading this could also be considered learning art. Each animal sees the cat in a different way. It's just beautiful on so many levels.
ACTIVITIES TO DO
Teach importance of always knowing where you winter hat and mittens are, discuss ways of not losing them such as putting mittens into hat, hat goes into hood or armhole.
Teach how to take off winter coats, mittens, etc. and putting them in the exact same place every time you come into the house. That way they won t get lost.
What do you do with your mittens when you go into a store? Teach how to keep track of them so they do not get lost, just like the little kittens.
Emphasize the K sound. Find other things that start with K that are in your house (a book with a kangaroo, give kisses, show your student how to kick, etc.). As you point these things out say the word and emphasize the K sound. See the bookkkkk? How do we throw Daddy a kkkkiss?
Emphasize the M sound in the same way. Teach the prepositions in, under, on, beside, near, behind, between, above, and in front of with the cards in the printable workbook. Then point at objects in the room and ask if they are above, below, or between another item. Any one of these amazing mitten activities.
Choose from one of the 10 magical mitten crafts for kids.
Worksheets to Complete
Start with our very own "The Three Little Kittens" Activity book!
Then if you want more fun activities you can try these.